Tip Of The Month

Almonds are one of the most nutritious nuts of all.

It has been shown that eating nuts five times a week reduces the risk of heart attack by 50 per cent. Low in saturated fat with calcium and magnesium protective nutrients. Vitamin E and phytochemicals which protect against cardiovascular disease.  The list goes on and on about the wonderful nutritional and protective facts of almonds. This recipe will give you a tasty snack that is easy to make and can be enjoyed any time...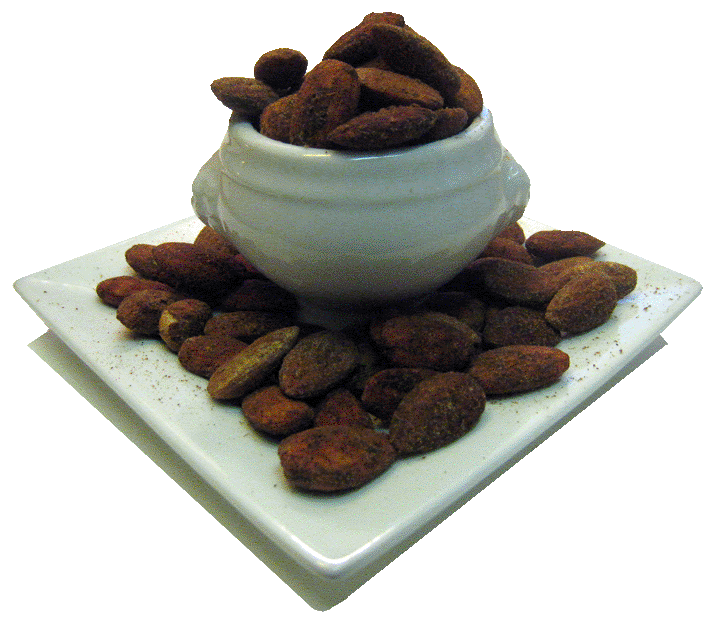 Roasted Ginger Almonds  -  Serving's: 16

Per Serving: - Calories 179; Sodium 109mg;

Fat 16g; Protein 6g; Carbohydrate 7g;

Cholesterol 0mg; Dietary fiber 3g 

pound

Tbsp

tsp

tsp

tsp

Tbsp

Tbsp

Almonds

Ground Ginger

Extra Virgin Olive Oil

Seasame Oil

Ancho Chile Powder

Soy Sauce, Low Sodium

Worcestershire Sauce

Directions

Heat the oven to 250 degrees F. Line a half sheet pan with parchment paper and set aside.

Combine the ginger and salt in a large mixing bowl and set aside.

Heat the olive oil,sesame oil and chile flakes in a 12-inch saute pan

over medium-low heat and cook, stirring frequently, until the chile

powder begins to give off an aroma, about 30 seconds.

Add the almonds and cook, stirring frequently until lightly toasted, approximately 5 minutes.

Add the low sodium soy sauce and Worcestershire sauce and cook until reduced slightly

and the pan looks dry, approximately 1 minute.

Immediately remove the nuts to the large bowl with the ginger & sea salt mixture

and toss to coat the almonds.

Spread the coated nuts into a single layer on a half sheet pan lined with the parchment paper

and bake in the oven for 20 minutes.

Remove the pan to a cooling rack for at least 30 minutes or until completely cool.

Store in an airtight container for up to 1 week.