A tender, thin, boneless cut of meat is the definition of a cutlet. It can be chicken, turkey, veal, lamb or pork. But no matter how you slice it, they can be down right tasty. Chicken Cutlets are some of the easiest meals to make. Chicken breast, a little breading, a few seasonings and a hot skillet and you have a tasty meal. This time around it's with an Apricot Gravy which is a mouth watering treat. Sweet and Savory all at the same time. It will give you a burst of flavor every time you take a bite… The average chicken cutlet starts out at 650 mg's of sodium and depending on who & how it is made climbs to well over 2,000. Ok your choice Chicken or Salt...  At 158 mg's of sodium you will find this dish exceptional in all ways. Taste, Flavor and easy to make…

Chicken Cutlets with Apricot Gravy   -  Serving's: 4


Per Serving: - Calories 485;
Sodium 158mg;
Fat 22g; Protein 33g; Carbohydrate 39 g;

          Cholesterol 87 mg; Dietary fiber 2g

Chicken Cutlets with Apricot Gravy

Click the movie reel to view or download

(Power Point Presentation)

A step by step cooking presentation.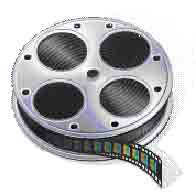 Enjoy,


From Our Unsalted Heart To Yours...
4

- 6 oz


Chicken Breast
¼

- cup


Egg Substitute
2

- Tbsp

      Water
½        - cup


Panko (Japanese Bread Crumbs)
¼

- cup


Bread Crumbs – no salt
1

- Tbsp

      Mama Carol's Grill'n Rub
¼

- cup


All-Purpose Flour
1

- tsp


  No-Salt Seasoning (Kirkland)
½

- tsp


  Garlic Powder
2

- Tbsp

      Extra Virgin Olive Oil
¼

- tsp


  Black pepper
4

- squirts

   Olive Oil Spray
½

- cup


Apricot Preserves - (reduced sugar)
2

- ounces

  Dried Apricots ( about 10 pieces)
1

- Tbsp

     Orange Juice Concentrate (frozen)
½

- cup


Chicken Broth – low sodium
1

- Tbsp

     Arrowroot or Cornstarch
Prepare Mama's Grill'n Rub

Place 3 trays on a flat surface. Place Flour in tray #1. Egg substitute & water in tray #2. Panko, Bread crumbs, Garlic powder and no-salt into tray #3. Set aside till needed.

Rinse your chicken breast under cool water then dry with a paper towel. Place chicken into a freezer bag and using a food mallet, lightly pound the chicken breast into a ½" thickness making it into a cutlet.

Note: you can use a small frying pan in place of a mallet as well as

any item that will allow you to flatten your chicken evenly.

Slice Dried Apricot into small slices and set aside till needed.

Place one cutlet into the flour. Dredge through flour making sure that you cover all sides. Shake off excess flour. Place floured cutlet into egg wash make sure that you completely coat your chicken. Place chicken into tray #3 with bread crumb mix

coating both sides of cutlet. Shake off any excess and set on a dish till all are ready to cook

Place a Skillet on top of the stove. Place 2 tablespoon of Extra Virgin Olive Oil in the pan and heat oil to medium. Place cutlets into skillet. one at a time. Cook for 3 minutes then squirt olive oil spray on top of cutlets. Turn cutlets over and cook for 3 minutes more.

Time to make the gravy

Mix together in a small pot,  ½ cup apricot preserves, 1 tablespoon orange juice concentrate, ½ cup chicken stock (low sodium),

and dried Apricots. Mix ingredients together. Heat mix and bring to a low boil. Lower temperature. Mix your arrowroot / cornstarch.


Arrowroot -Mix 2 tablespoons of cold chicken stock with 1 tablespoon of arrowroot in a separate bowl.
Add arrowroot / cornstarch to pot. Simmer for 3 minutes.

Pour Gravy over each chicken cutlet when served...

Note: see Ingredients for good sources of hard to find items.

The ingredients listed for this recipe have been chosen to help lower the sodium content of your final dish.

This will help you with a heart healthy life style.

Healthy Recipes with Great Taste

Designed To Help Lower Your Sodium For Life

A Heart Healthy Life Style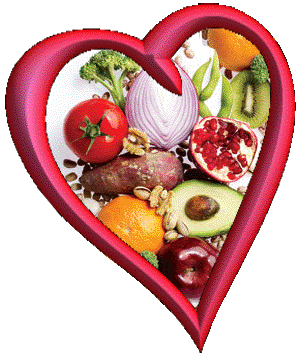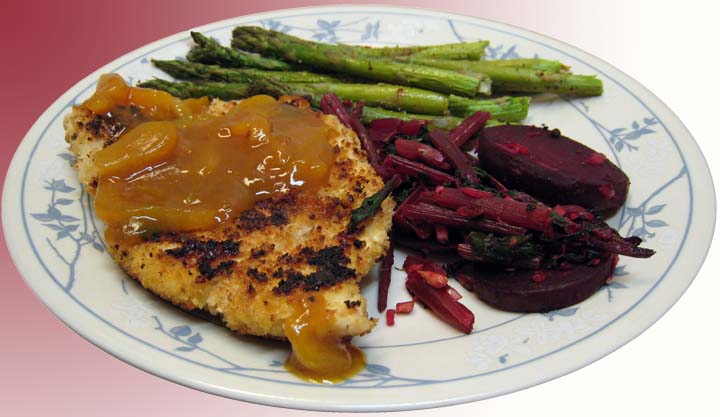 Mama Carol's Grill'n Rub

1 Teaspoon each of:

Thyme, Cayenne Pepper, Black Pepper, Cumin,

Smoked Paprika, Granulated Garlic, Granulated Onion, Chili Powder, Brown Sugar, Dry Mustard,

No-Salt Seasoning (Kirkland)

Mix all ingredients in a bowl to blend. You can also use a coffee / spice grinder to make a better balanced rub. Sprinkle on all of your favorite recipes… and store the rest for next time.

It's important to prepare all of your ingredients

before you start to cook.

Do all of your chopping, grating and pre-measuring, and you will have a great meal that is easy to make.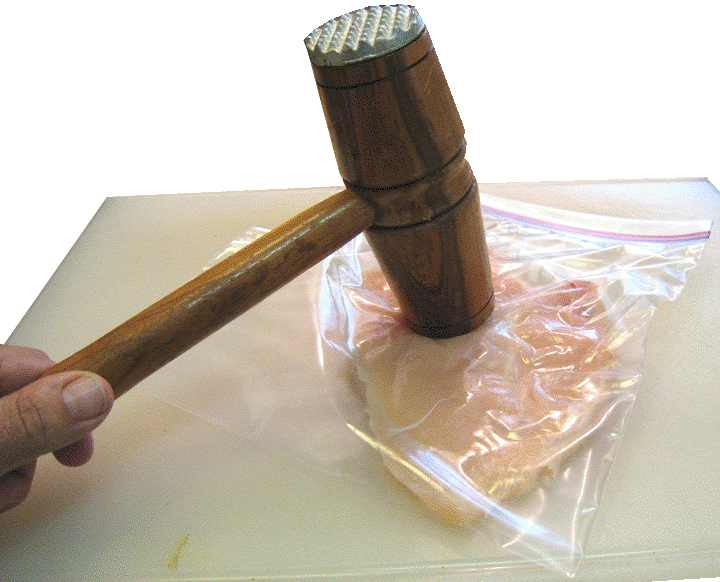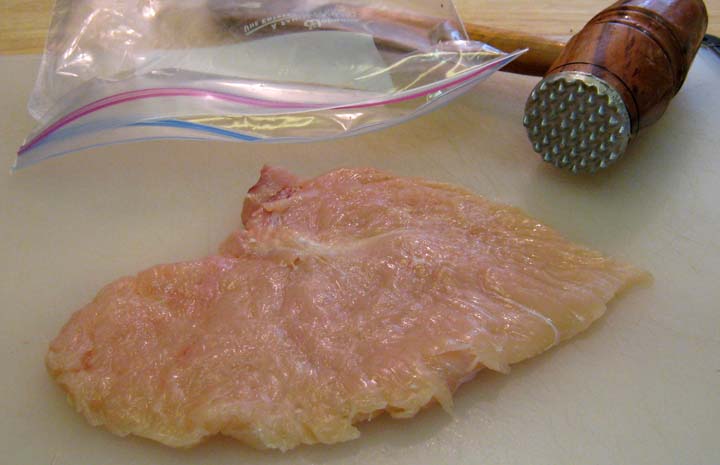 Chicken Cutlets with Apricot Gravy

Recipe by

Tony LeDonne