Absolutely a great tasting dish. Roasted Chicken, Roasted Veggies and a Creamy Orzo Pasta that melts in your mouth. This simple to make pasta recipe is layered with flavors. Chicken is roasted with Mama Carol's Poultry Rub that makes for a succulent juicy bird. The Veggies are roasted to perfection. Add toasted Pine Nuts, Parmigiano Cheese and Creamy Orzo and you have a meal that just can't be beat.  The sodium in a restaurant orzo dish will start 850 mg's and will climb well over 3000 mg's. This flavor sensation has only 191 mg's of sodium and will tantalize all of your pasta dreams...

Roasted Chicken Roasted Veggies & Orzo

Serving's:  4

Per Serving: - Calories 495; Sodium 191mg;

Fat 20 g; Protein 23 g; Carbohydrate 60 g;

Cholesterol 36 mg; Dietary fiber 5 mg.

1/2

6

8

1

5

1

1

2

2

2

2

2

1/4

2

4

1

1

1/4

1

1

pound

ounces

medium

medium

medium

small

small

medium

Tbsp

cups

cups

Tbsp

tsp

Tbsp

squirts

Tbsp

tsp

tsp

tsp

Tbsp

Prepare Mama Carol's Poultry Seasoning

Roasting Chicken - Pre heat oven to  375 degrees


Sprinkle chicken with Mama Carol's Poultry Rub. (Recipe Below) Line a roasting pan with aluminum foil, for easy cleanup later. Squirt baking pan with non-stick olive oil spray then place seasoned chicken in pan and place in oven.
Roast for 30 minutes, till golden brown. Remove from oven and let rest for 15 minutes. Cut into bite size pieces. Set aside till needed.

Roasting Vegetables - Pre heat oven to 425


Place veggies in a bowl. Sprinkle 1/2 tsp no-salt seasoning, 1/2 tsp basil and red pepper flakes . Squirt olive oil spray and mix to coat veggies with oil and seasonings. (
Note
: leave peel on garlic for roasting)

In a large baking pan, line with aluminum foil and squirt with olive oil spray. Place seasoned veggies in pan, except for the tomatoes. Roast for 20 minutes then turn veggies over and add tomatoes. Cook for 10 minutes more.

Let cool, remove garlic and peel. Slice into small pieces. Slice tomatoes into quarters then return to veggies.
Set aside till needed.

Toasting Pine Nuts


In a medium skillet, place pine nuts and heat to medium. Using a spatula, move nuts around while toasting. Approximately 3 to 4 minutes.
Nuts are done when they have a light brown oily appearance and have a nutty fragrance.

Set aside till needed to complete recipe.

Enjoy,


From Our Unsalted Heart To Yours...
Orzo (rice shaped pasta)

Roasted Chicken - bite size pieces

Crimini Mushrooms - thick slices

Zucchini - thick slices

Plum Tomatoes - cut in half

Red Onion - sliced

Red Bell Pepper - bite size pieces

Green Onions - sliced

Pine Nuts - toasted

Chicken Broth - low sodium

Almond Milk

Parmigiano Reggiano Cheese - grated

Red Pepper Flakes

Extra Virgin Olive Oil

Non-stick Olive Oil Spray

Un-salted Butter

No-salt seasoning - (Kirkland)

Ground Black Pepper

Dried Basil

Mama Carol's Poultry Rub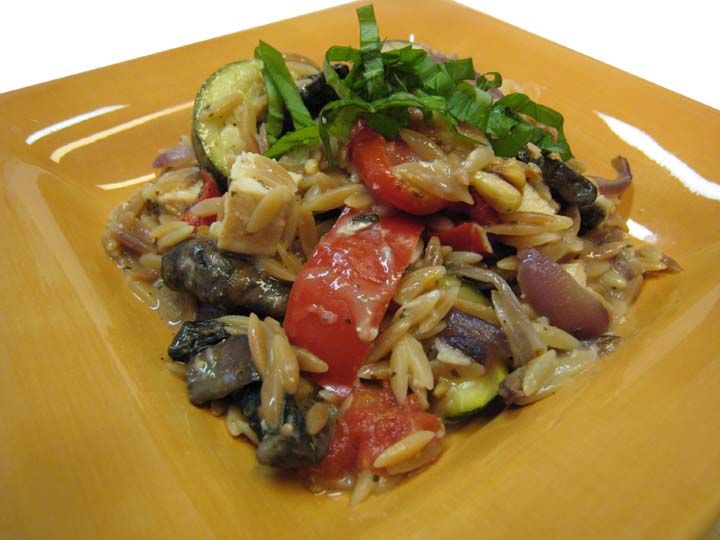 Orzo


In a large deep skillet, place butter, olive oil & orzo. Heat skillet to medium and coat orzo by stirring till golden brown, about 5 minutes. Add 2 cups chicken broth and cook till almost absorbed.

Add 2 cups of almond milk, 1/2 tsp no-salt seasoning, black pepper & basil. Stir continually till orzo is al dente.
Orzo will take about 4 to 5 minutes to absorb almond milk, fininsh cooking and become creamy.



(al dente  -  tender yet firm. NOT MUSHY)
Putting All Together


When orzo is done add vegetables, chicken, pine nuts & Cheese. Mix all ingredients together, Heat through for 1 minute then place in serving dish.

Top with a sprinkle of grated cheese and a chiffonade of basil.  (Chiffonade - slicing basil into ribbons)
The UnSalted Heart.com

Healthy Food with Great Taste

Recipes Designed To Help Lower Your Sodium For Life

A Heart Healthy Life Style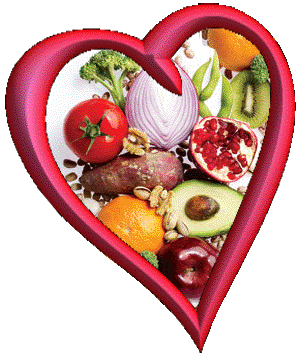 Roasted Chicken Roasted Veggies & Orzo

Recipe by 

Tony LeDonne

Preparing Your Ingredients

It's important to prepare all of your ingredients before you start to cook. Do all of your chopping, grating and pre-measuring, and you will have a great meal that is easy to make.

The ingredients listed for this recipe have been chosen to help lower the sodium content of your final dish.

This will help you with a heart healthy life style.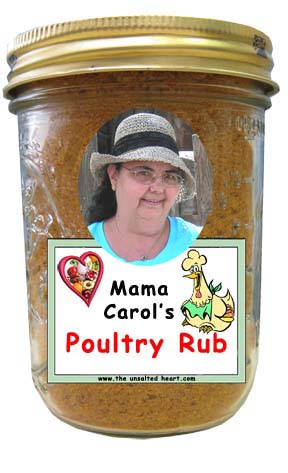 Mama Carol's Poultry Rub      

Mix together and rub on poultry.

1/4 cup brown sugar, 1/2 tbsp dry mustard,

1/8 tsp cayenne pepper, 1/16 tsp sea salt

1/2 tsp each of: paprika, onion powder, garlic powder

1/4 tsp each of: ground black pepper, sage, poultry seasoning