New ways to make a better muffin is always a challenge. Finding new ingredients that give not only flavor but heart healthy fiber and nutrition. Creating a low sodium treat that everyone will love. The end result has to be heart smart, tasty and easy to make. Our new BB& B muffin, other wise known as Banana, Berry and Bacon has all of those qualities. Using well known cereals as the base adds healthy grains and fiber just for starters. Cheerios & Fiber One. With the addition of bacon for that savory twist and the balance of the other ingredients combined you will have a scrumptious muffin that will satisfy anytime.

Breakfast, Snack or Dessert, and maybe in between...

BB&B Muffins  -  Serving's:  6

Per Serving: - Calories 326; Sodium 323mg;

Fat 6g; Protein 8g; Carbohydrate 64g;

Cholesterol 3mg; Dietary fiber 6mg.

1

1

1/2

1 1/4

1/3

1

3/4

1

1/4

2/3

1/2

1

1/4

1/4

1/4

4

Squirt

cup

cup

cup

cup

tsp

tsp

cup

cup

cup

cup

tsp

cup

cup

cup

strips

Baking Spray with flour

Cheerios ®

Fiber One ® Cereal

All-Purpose Flour

Brown Sugar - packed

Baking Powder - sodium free

Baking Soda

Banana - mashed , (2 large bananas)

Egg Sub or (1 egg white)

Almond Milk

Applesauce (unsweetened)

Vanilla Extract

Walnuts - chopped

Dried Blueberries

Craisins (dried cranberries)

Bacon - LOW SODIUM

Prepare Bacon.


Heat a skillet to medium and place bacon in skillet. Cook on each side for 3 minutes. Just until cooked through and slightly crisp. Remove from skillet and place on a paper towel to drain. Allow to cool for 5 minutes then using a large knife chop into small pieces. Set aside till needed.
Pre-heat oven to 400 degrees. Spray a large muffin pan with non-stick spray containing flour.

Place Cheerios and fiber one in a large plastic bag. Using a rolling pin break up into very small pieces, but not into a powder.

Chop walnuts into small pieces using a large knife or a nut grinder.

Mash bananas using a fork leaving no large pieces. Mash well.

In a large bowl place, Cheerios, fiber one, flour, brown sugar, baking powder, baking soda . Mix together to blend all ingredients.

In a two cup measuring cup or small bowl add, 2/3 cup Almond milk, egg sub or egg white, vanilla and applesauce. Mix well to combine liquids. Add mashed banana and mix together.

Add the wet ingredients to the dry ingredients and stir only until the ingredients are just combined.  Fold in dried blueberries, Craisins, walnuts and chopped bacon. Do not overmix the batter or the muffins will become tough.

Using a large scoop, fill each muffin cup about two thirds full of batter. Fill any unused muffin cups half way with water to prevent warping and over browning of the muffins.

Place in the middle of the oven and bake for 19 to 21 minutes. Test by inserting a tooth pick into the center of a muffin and it comes out clean, with no uncooked  batter.

Allow muffins to sit 5 minutes then transfer to a wire rack to cool.

Note: Turkey Bacon can be used in place of pork bacon. But be careful as turkey bacon has more sodium. Check the packages when purchasing. Any nuts can be used in place of the walnuts if you are allergic ...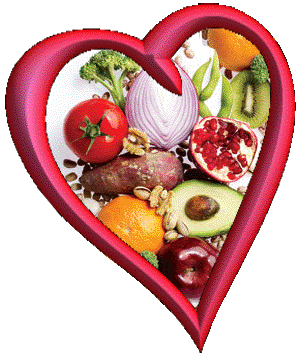 Healthy Recipes With Great Taste

Designed To Help Lower Your Sodium For Life

A Heart Healthy Life Style

Enjoy,


From Our Unsalted Heart To Yours...
Banana, Berry & Bacon Muffins

Recipe by

Tony LeDonne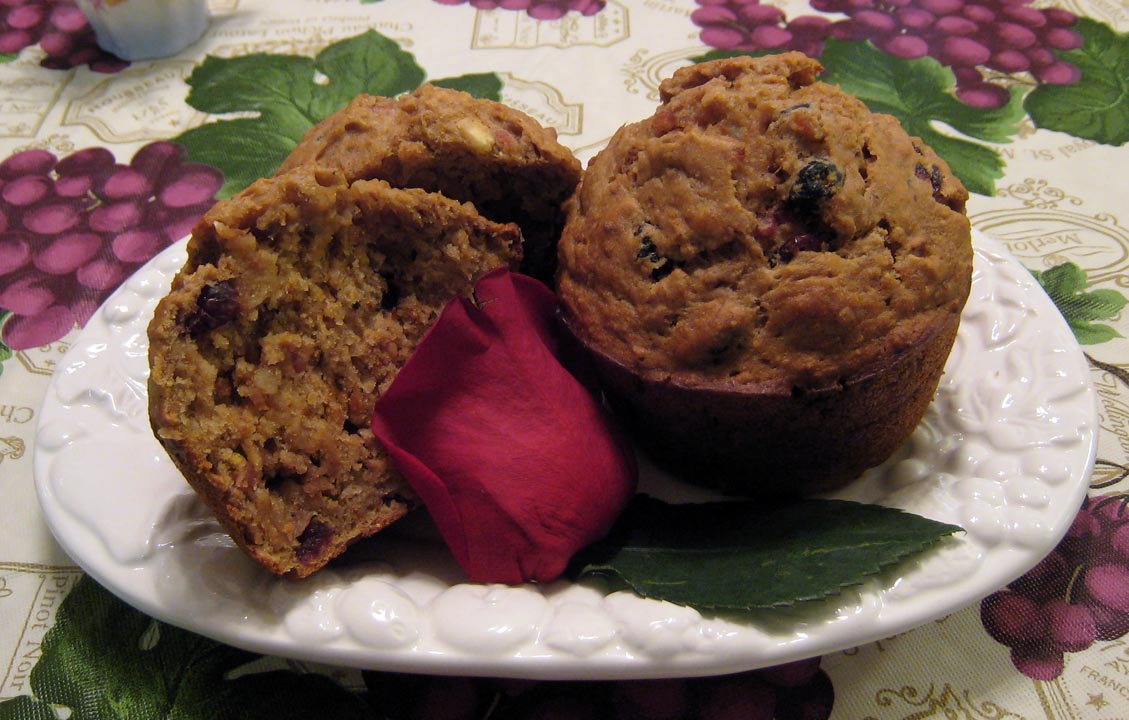 Preparing Your Ingredients

It's important to prepare all of your ingredients before you start to cook.

Do all of your chopping, grating and pre-measuring,

and you will have a great meal that is easy to make.