Easy to prepare, this dish can be made with any of your favorite white fish varieties. It is just packed with fresh ingredients and Mama's Seafood Rub just brings out the flavors. Basa is a firm white fish that is tender and very easy to cook. With the addition of tomatoes, cilantro, mint and basil you will make a dish that is just bursting with mouth watering flavors. Low in sodium. High in flavor. A healthy list of ingredients and you have a meal full of heart healthy goodness...

Basa with Plum Tomatoes & Mushrooms  -  Serving's:  4

Per Serving: - Calories 257; Sodium 189mg;

Fat 15g; Protein 19g; Carbohydrate 14g;

Cholesterol 40mg; Dietary fiber 4mg.

Ingredients:   

1

2

1

1

1/4

1/4

1/4

1

2

1/4

1

1

2

1/2

1/4

2

6

1

1/4

2

pound

Tbsp

large

large

ounce

ounce

ounce

small

tsp

tsp

Tbsp

small

cloves

small

tsp

large

large

tsp

tsp

tsp

Basa Fillet

Extra Virgin Olive Oil

Lemon - juiced

Lemon Zest

Fresh Cilantro

Fresh Basil

Fresh Mint

Serrano Pepper

Mama Carol's Seafood Rub

Ground Black Pepper

Grapeseed Oil

White Onion - Chopped

Garlic - Minced

Red Bell Pepper - Sliced

No-Salt Seasoning (Kirkland)

Plum Tomatoes - Chopped

White Button Mushrooms - Sliced

White Balsamic Vinegar

Sea Salt

Cumin

Chop white onion and serrano pepper. Mince garlic. Slice bell pepper into 1/4 inch strips.

Slice mushrooms into 1/4 inch slices.

Marinade:  Place in a large freezer bag: extra virgin olive oil, lemon juice, lemon zest, basil, cilantro, mint, serrano pepper,  1 teaspoon Mama's Seafood Rub and ground black pepper.

Shake bag to mix all of the ingredients. Add fish filets. Seal bag, move ingredients around to coat the fish. Place bag into the refrigerator for 1 hour.

In a skillet, place 1 tbsp grapeseed oil and heat to medium. Saute onion till tender, about 5 minutes. Add garlic, cook for 1 minute then add bell pepper, no-salt seasoning and cook for 3 minutes more.

Move onion - bell pepper mix to one side of the pan. Add marinated fish. Sprinkle with seafood rub and cook for 1 minute. Turn over, sprinkle with remainder seafood rub. Add the marinade liquid & herbs,  Onion & Bell pepper mix. Add chopped tomatoes and season with sea salt and cumin.

Lower heat and place a lid on skillet. Simmer on low for 20 minutes till fish flakes apart.

Place in serving dish and sprinkle with fresh cilantro or basil...

Enjoy,


From Our Unsalted Heart To Yours...
The ingredients listed for this recipe have been chosen

to help lower the sodium content of your final dish.

This will help you with a heart healthy life style.

Prepare Mama Carol's Seafood Rub

Rinse all of your herbs in cool water to clean off all dirt and debris. Shake the water off.

Using a large knife, lightly chop all of your fresh herbs. Basil, Cilantro and the Mint.

(Note: Be careful not to bruise the herbs

as you want to leave all of the juices

and flavor in the herbs...)

Mama Carol's Seafood Rub

Place in a bowl

¼ tsp  Ground Cloves, Ground Ginger

½ tsp Allspice, Cayenne Pepper, Celery Seeds,

Chili Powder, Cinnamon, Marjoram, Paprika, Parsley, Thyme

¾ tsp Garlic Powder, Nutmeg, Onion Powder

1 tsp Cumin

1 ½ tsp Bay leaves, Black Pepper, Dry Mustard

Grind all spices together in a food grinder or mortar & pestle.

Sprinkle seafood rub onto your trout.

And save the rest for next time...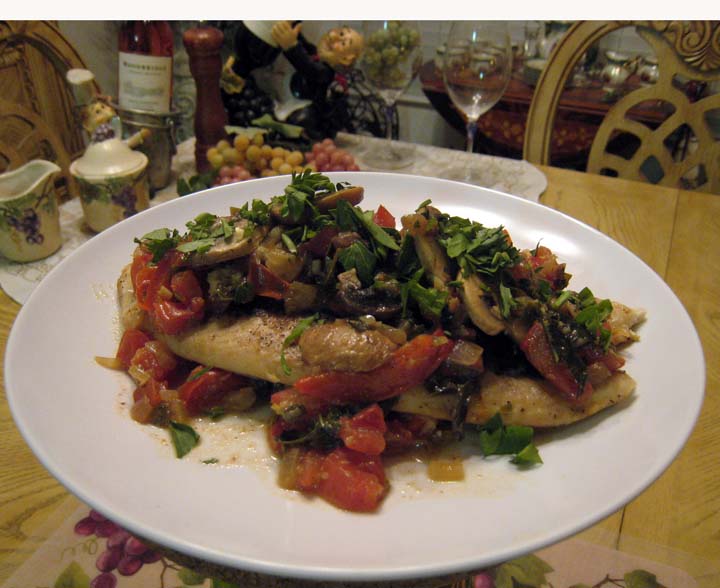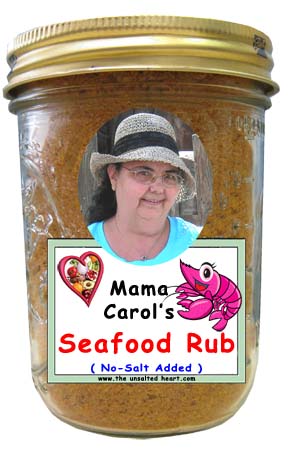 Healthy Food with Great Taste

Recipes Designed To Help Lower Your Sodium For Life

A Heart Healthy Life Style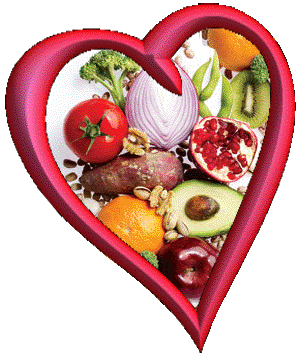 Basa with Plum Tomatoes & Mushrooms

Recipe by 

Tony LeDonne

Preparing Your Ingredients

It's important to prepare all of your ingredients before you start to cook.

Do all of your chopping, grating and pre-measuring, and you will have a great meal that is easy to make.