What better way to have your apple a day?  Apples, Cranberries & Pork make up a tantalizing combination. The trick with all of our recipes is to lower that salt. In this pork dish you get low salt and big flavor.  The average pork dish from restaurants or the market starts at 400mg per serving and skyrockets from there. Keep in mind that they try to fool you by listing a serving size of 3 ounces.

Our recipe gives you that wonderful taste, lower salt and a 6 oz serving to satisfy your hunger.

Apple Stuffed Pork Loin Roast  -  Serving's:  6 (6oz slices)

Per Serving: - Calories 282; Sodium 224mg;

Fat 8g; Protein 28g; Carbohydrate 27g;

Cholesterol 72mg; Dietary fiber 3mg.   

3

1/2

1

1/2

1

1/2

1

1

1/2

2

1

2

1

2

1

1/2

Cloves

tsp

tsp

tsp

tsp

tsp

2 lb

Tlbs

cup

large

med.

Tlbs

tsp

cup

Tlbs

cup

Garlic - pressed

Sea Salt

Rosemary - dried

Thyme - dried

Cinnamon - ground

Black Pepper - ground

Pork Loin Roast - Center Cut

Butter - unsalted

Craisins (cranberry raisins)

Apples - Granny Smith

Onion - sliced thin

Brown Sugar

Dijon Mustard

Apple Juice

Arrowroot

Water

Preheat oven to 325 degrees.

Combine garlic, sea salt, thyme, rosemary, 1/4 tsp cinnamon & black pepper in a small bowl and with a fork press all ingredients together to make an herb paste.

Cut pork loin lengthwise down the middle, almost to, but not through the bottom of the roast. You want to open the roast like a book on each side. Rub half of the herb mixture onto the cut sides of the pork.

In a large skillet melt butter over medium-high heat. Add apples & onion and cook stirring 5 to 8 minutes until they are tender and soft. Stir in brown sugar, Craisins, 1/4 tsp cinnamon & mustard and turn off heat and allow to sit for 5 minutes letting the flavors come together.

Spread apple mixture evenly onto the cut side of your roast. Close halves by tying roast with butcher string. The string should go around the roast every 2 inches. Roast needs to be tight enough only to hold in apple mixture inside.

Place roast on rack in a shallow roasting pan. Pour apple juice over top of roast and rub remaining herb mixture over the outside of roast.

Roast, uncovered 2 hours basting every 25 to 30 minutes with pan drippings. Roast will be done when is registers 155F on a meat thermometer from the center of the roast.

Remove roast from oven and let sit for 15 minutes before slicing allowing juices to remain in the roast. After resting carve roast into 1/2" slices. ( 6 ounces each)

While Roast is resting, In a sauce pan, pour the pan juices from the roast. Bring to a boil and add Arrowroot, mixed into 1/2 cup of water, to your pan and boil for 3 minutes to become Apple gravy & fragrant.

Serve with Apple gravy over your roast...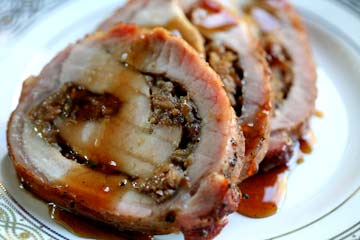 Enjoy,


From Our Unsalted Heart To Yours...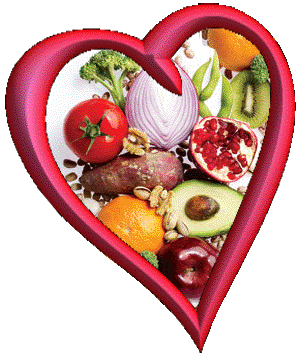 Healthy Recipes With Great Taste

Designed To Help Lower Your Sodium For Life

A Heart Healthy Life Style

Apple Stuffed Pork Loin Roast

Recipe by

Tony LeDonne

Preparing Your Ingredients

It's important to prepare all of your ingredients before you start to cook.

Do all of your chopping, grating and pre-measuring, and you will have a great meal that is easy to make.

The ingredients listed for this recipe have been chosen to help

lower the sodium content of your final dish.

This will help you with a heart healthy life style.