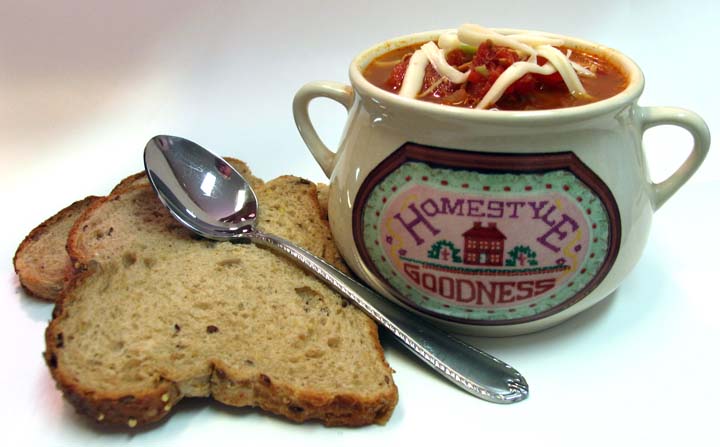 Turkey Soup with a Southwestern Flair. Spicy, Robust and Aromatic. This soup is not for the faint of heart. It delivers a kick that will surprise your taste buds at first and then settle down to a flavor that compels you to that next bite.   A soup like this one will start out at over 630 mg's of sodium depending on the recipe or restaurant. Our version has 160 mg's of sodium, a great spicy flavor, simple to make and is a real crowd pleaser...

Southwestern Spicy Turkey Soup  -  Serving's:  4

Per Serving: - Calories 320; Sodium 160mg;

Fat 16g; Protein 25g; Carbohydrate 34g;

Cholesterol 53mg; Dietary fiber 10mg.

  Ingredients:   

1 1/2

4

1

1

1

2

1

2

1

1/2

1/2

1/2

1/4

1

1/2

1/2


cups

cups

28 oz can

4 oz can

pepper

medium

large

cloves

Tbsp

tsp

tsp

tsp

tsp

each

tsp

cup

Roasted Turkey

Turkey / Chicken Stock - low sodium

Diced Tomatoes - low sodium

Green Chili Peppers

Chipotle Chile in Adobo sauce

Plum Tomatoes - chopped

Onion - chopped

Garlic - minced

Lime Juice

Cayenne Pepper

Cumin - ground

No-Salt Seasoning (Kirkland)

Black Pepper - ground

Avocado - diced into small cubes

Cilantro - dried

Queso Fresco or Monterey Jack Cheese

Directions

Place  a large soup pot over medium heat.

Place into pot: turkey, broth, diced tomatoes, green chilies, fresh tomatoes, chili in adobo sauce,onion, garlic and lime juice.

Mix to combine then add: cayenne, cumin, no-salt seasoning and black pepper.

Bring to a boil, then reduce heat and simmer for 15 minutes.

Add avocado and cilantro, mix into soup and simmer for an additional 15 minutes allowing the soup to thicken.

Serve with cheese on top...

Enjoy,


From Our Unsalted Heart To Yours...
The ingredients listed for this recipe have been chosen to help lower the sodium content of your final dish.

This will help you with a heart healthy life style.

It's important to prepare all of your ingredients before you start to cook.

Do all of your chopping, grating and pre-measuring, and you will have a great meal that is easy to make.

Healthy Food with Great Taste

Recipes Designed To Help Lower Your Sodium For Life

A Heart Healthy Life Style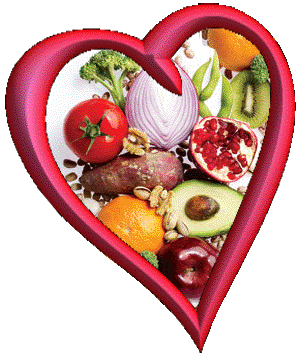 Southwestern Spicy Turkey Soup

Recipe by 

Tony LeDonne