Zucchini is a very versatile vegetable. It goes well with all kinds of dishes including breads and deserts.  Zucchini Boats have been around for many years and have always been a family favorite. Ground Chicken, Steamed Rice, a diced tomato thrown in for good measure and you have a hearty great tasting  Italian style meal.  Now who could go wrong with that... Sodium starts around 500mg in restaurants and goes up from there depending on how it is made.  At 188mg's, you will enjoy how enticing this zucchini boat really is...

Zucchini Boats stuffed with Chicken & Rice  -  Serving's:  4

Per Serving: - Calories 378; Sodium 188mg;

Fat 14g; Protein 30g; Carbohydrate 33g;

Cholesterol 65mg; Dietary fiber 4mg.

4

8

8

1

1

2

1

1

1-can

1/2

1/2

1/2

2

2

2

large

ounces

ounces

cup

small

cloves

medium

Tbsp

14.5 oz

tsp

tsp

tsp

tsp

ounces

squits

Zucchini

Chicken - ground

Rice - cooked

Crimini Mushrooms - chopped

Onion - chopped

Garlic - chopped

Jalapeno - chopped

Extra Virgin Olive Oil

Diced Tomatoes - no salt added

Basil - dried

Oregano - dried

Parsley - dried

No Salt Seasoning - (Costco)

Parmigiano Reggiano Cheese - grated

Non-stick Olive Oil Spray

Cut zucchini in half longwise. Using a teaspoon hollow out the zucchini creating a boat. Chop the zucchini that was taken out and reserve for saute.

In a large skillet add oil then saute onion on medium heat till translucent, add garlic and cook 2 minutes. Add ground chicken and cook for 5 minutes till browned. Add jalapeno, mushrooms, chopped zucchini and 1/2 the spices, cook for

5 minutes till veggies are soft.  Note: if more oil is needed, use non-stick olive oil spray.

Mix in the cooked rice and diced tomatoes to warm through. Allow mixture to cool for 10 minutes then add the Parmiginao Reggiano Cheese and remaining spices.

Lay your zucchini half's in a baking dish sprayed with non-stick olive oil spray, and stuff each boat with your mixture mounding each one till all of the stuffing has been divided evenly. Bake zucchini covered with foil in the oven for 20 minutes. Remove foil and cook 20 minutes more till zucchini is tender.









(Zucchini should be fork tender by not mushy when done...)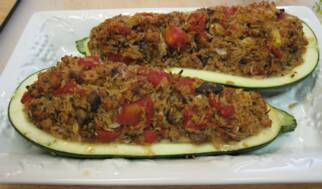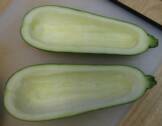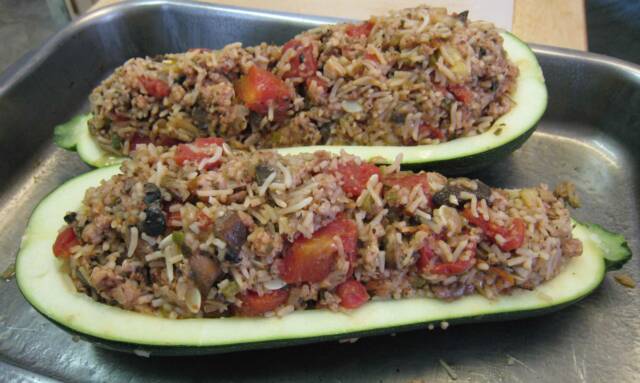 Enjoy,


From Our Unsalted Heart To Yours...
The UnSalted Heart

Healthy Food with Great Taste

Recipes Designed To Help Lower Your Sodium For Life

A Heart Healthy Life Style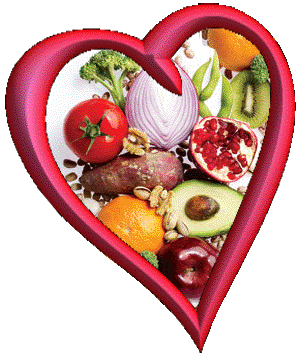 It's important to prepare all of your ingredients

before you start to cook.

Do all of your chopping, grating and pre-measuring, and you will have a great meal that is easy to make.

Zucchini Boats Stuffed with Chicken & Rice

Recipe by

Tony LeDonne