Great Tasting Juicy Chicken is always a challenge. This recipe will bring a new passion to your taste buds. Maple, Pecans & Chicken come together to create a dish that you will want over & over.  The average single chicken breast made in this style starts out at 650mg,s on up depending on where your purchase it.

Maple Pecan Baked Chicken Breasts  -  Serving's: 4 ( 8oz)


Per Serving: - Calories 348;
Sodium 201mg;
Fat 31g; Protein 61g; Carbohydrate 20g;

Cholesterol 212mg; Dietary fiber 0g   

Maple Pecan Clusters - Crushed

Chicken Breasts - Skinless

Mrs.Dash

Egg - Beaten

Maple Syrup

Extra Virgin Olive Oil Spray

Heat Oven to 350 Degrees.

Prepare the chicken by placing the Egg & maple syrup in a bowl large enough to dip the chicken into. Crush the Maple Clusters in a food processor small enough to coat the chicken breasts.

Wash the chicken and pat dry. Dip each breast into the egg & maple syrup mixture and then into a separate bowl with the Maple Pecan Mix. Make sure to coat the entire piece of chicken evenly.

Spray Olive Oil  into a glass baking dish  large enough to fit all 4 breasts. Place the chicken breast into the dish and let sit for 10 minutes and allow coating to adhere.

Bake uncovered in oven at 350 deg. for 40 minutes then raise oven temperature to 375 deg for 10 minutes to allow the chicken to become crispy.

Let Chicken sit for 10 minutes before serving to allow juices to stay inside for a delicious meal.

NOTE: This recipe calls for

Trader Joe's Maple Pecan Cluster Cereal.

Choose a maple peacan cereal that is low in sugar

and sodium for the same results.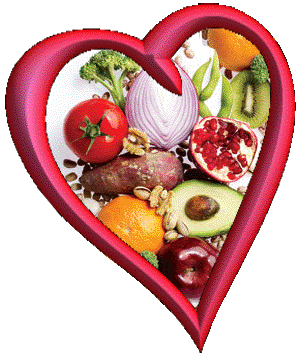 Healthy Recipes With Great Taste

Designed To Help Lower Your Sodium For Life

A Heart Healthy Life Style

Enjoy,


From Our Unsalted Heart To Yours...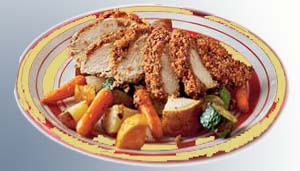 Maple Pecan Baked Chicken Breasts

Recipe by

Tony LeDonne.

The ingredients listed for this recipe have been chosen to help

lower the sodium content of your final dish.

This will help you with a heart healthy life style.