Heart Healthy is just the beginning of describing a wonderful dish like this one. Butternut squash has a fantastic flavor that delivers an ample dose of dietary fiber making it  an exceptionally heart friendly choice. It's tangerine hue signals an abundance of powerhouse nutrients known as carotenoids which has shown to protect against heart disease. Swiss chard adds a flavor similar to a combination of beets & spinach and is one of the most powerful anti-cancer foods due to its combination of it's traditional nutrients. Put all of it together with Whole Grain Penne and you have a dish that is exciting and healthy all at the same time…

Butternut Squash & Swiss Chard

with Penne Pasta

Serving's: 6

Per Serving: - Calories 283; Sodium 175mg;

Fat 7g; Protein 10 g; Carbohydrate 45 g;

Cholesterol 11mg; Dietary fiber 6 mg.

Enjoy,


From Our Unsalted Heart To Yours...
Healthy Recipes With Great Taste

Designed To Help Lower Your Sodium For Life

A Heart Healthy Life Style

Baking ButterNut Squash


Pre-heat oven to 350 degrees
Peel, then cut butternut squash into 1 1/2 inch cubes and place into a large bowll, Mix in brown sugar, cinnamon, nutmeg and  black pepper. Squirt olive oil spray into squash and mix. Squirt a baking pan with olive oil and place seasoned butternut cubes in pan. Dot squash with butter and place into oven. Roast for 35 minutes. Remove from oven and set aside till needed.

Place a large skillet onto stove. Add olive oil & red pepper flakes then heat skillet to medium low. Add Shallots. Cook for 5 minutes until translucent & soft. Add garlic and cook for 2 minutes more. Squirt skillet with olive oil spray then add Swiss Chard, squirt on top with olive oil spray. Mix together and cook for 5 minutes until chard is soft and wilted.

Add black pepper & no-salt seasoning and mix through. Add 2 cups of chicken broth. Simmer for 3 minutes. Add 1 cup almond milk and simmer for 2 minutes more. Mix in 1 ounce of grated cheese  and lower heat to low simmer till pasta is ready.

Place a pot with 6 quarts of water on the stove. Bring water to a boil. Add Penne Pasta and cook as recommended on pasta label. (Approximately10 to 12 minutes. )



Note:
Your pasta package will have a cooking time on it. Each brand of pasta will be different,





so it is important to follow the directions on the package.
Drain Penne then place back in pot. Place pot back on stove with low heat for 2 minutes to evaporate all leftover water.

Add Penne to skillet with sauce and mix pasta gently . Add Roasted Butternut squash to skillet. Mix gently to heat through and blend flavors. Place in serving dish & sprinkle with cheese.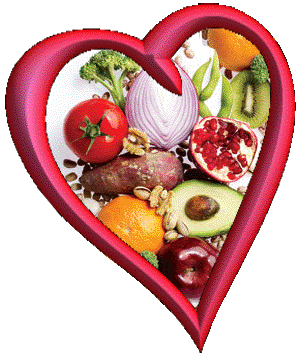 Butternut Squash ( 1 ½ lbs)

Swiss Chard (1/2 lb -green or red stems)

Whole Wheat Penne (Ziti Rigate)

Brown Sugar

Cinnamon

Nutmeg

Black Pepper – ground

Butter – unsalted

Olive Oil Spray

Extra Virgin Olive Oil

Red Pepper Flakes

No-salt seasoning (Kirkland)

Chicken Broth – low sodium

Almond Milk

Shallot - minced

Garlic – minced

Arrowroot (or Wondra flour)

Parmigiano Reggiano Cheese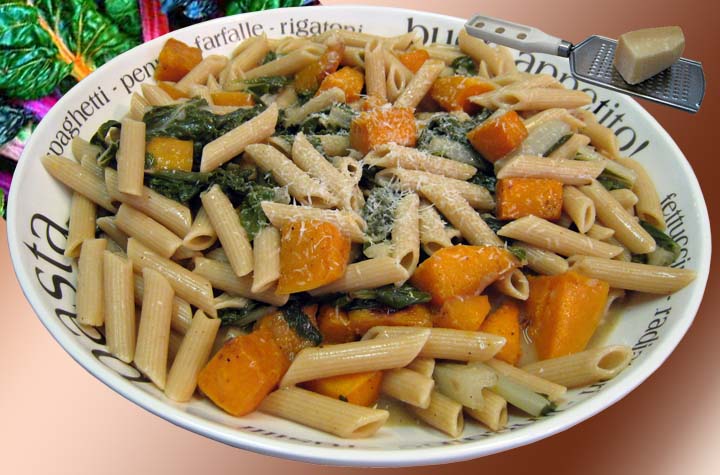 - whole

- bunch

- ounces

- Tbsp

- tsp

- tsp

- tsp

- Tbsp

- squirts

- Tbsp

- tsp

- tsp

- cups

- cup

- med

- cloves

- Tbsp

- ounce

Butternut Squash & Swiss Chard

with Penne Pasta.

Recipe by

Tony LeDonne

Preparing Your Ingredients

It is important to prepare all of your ingredients before you start to cook.

Do all of your chopping, grating and pre-measuring, and you will have

a great meal that is easy to make