Prepare Pork

Trim off the excess fat. Slice Pork into 2 inch pieces and place into a large bowl. Sprinkle Mama's Pork Rub, black pepper

and orange peel over the pork and allow to sit for 30 minutes.

In a Slow Cooker / Crockpot place;

Seasoned pork, Lemon juice, Potatoes, Onions, Celery, Carrots, Green onion, Serrano pepper, Garlic, Grated ginger and

2 cups vegetable broth.

In a separate small bowl, mix Arrowroot powder with 2 tablespoons of water.

Pour into slow cooker.

Place lid on cooker. Put heat on low for 8 hours or High for 4 hours.

Serve & Enjoy

Quick, Simple & Delicious…

A stew by any definition is to cook slowly for a long time. Using a Slow Cooker or Crockpot will do all of that for you.

With wholesome vegetables, a few spices and a nice piece of pork, you will create a succulent comforting stew.

The average Stew of this type typically starts out at over 700mg of sodium. My tasty stew along with the help of Mama's Pork Rub is 137mg's of sodium with huge flavors to satisfy all of your comfort zones…

Simple to prepare. Place it all into one slow cooker and come home to a wonderfully fragrant pork stew that's ready to please…

Slow Cook'n Pork Stew   -  Serving's: 6

Per Serving: - Calories 347; Sodium 137 mg;

Fat 15g; Protein 28g; Carbohydrate 25g;

Cholesterol 66 mg; Dietary fiber 4g

Slow Cook'n Pork Stew

Click the movie reel to view or download

(Power Point Presentation)

A step by step cooking presentation.

Enjoy,


From Our Unsalted Heart To Yours...
The ingredients listed for this recipe have been chosen to help lower the sodium content of your final dish.

This will help you with a heart healthy life style.

The UnSalted Heart

Healthy Food with Great Taste

Recipes Designed To Help Lower Your Sodium For Life

A Heart Healthy Life Style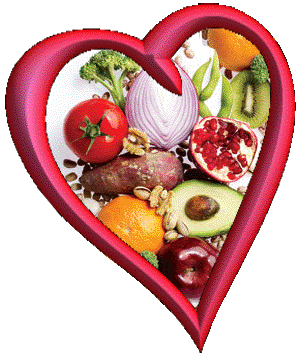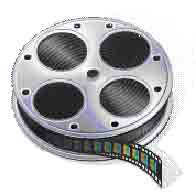 - lbs

- med

- large

- stalk

- whole

- med

- cloves

- med

- Tbsp

- tsp

- cups

- inch piece

- tsp

- tsp

- tsp

- tsp

- Tbsp

- tsp

It's important to prepare all of your ingredients before you start to cook.

Do all of your chopping, grating and pre-measuring, and you will have a great meal that is easy to make.

Mama Carol's Pork Rub

1 cup Brown Sugar  -  ¼ cup Dry Mustard

½  Tbsp :Paprika, Cinnamon, Onion Powder, Garlic Powder

½  tsp: Cayenne Pepper, Oregano, Ground Black Pepper

¼ tsp Sea Salt

Mix all ingredients in a bowl to blend.

Sprinkle on all of your favorite pork recipes…

and store the rest for next time.

Prepare Mama's Pork Rub

Veggies

Cut potatoes into quarters

Carrots into 1½" pieces

Celery into 1" pieces

Green onion into small pieces

Onion into large bite size pieces

Chop garlic

Grate ginger

Chop serrano pepper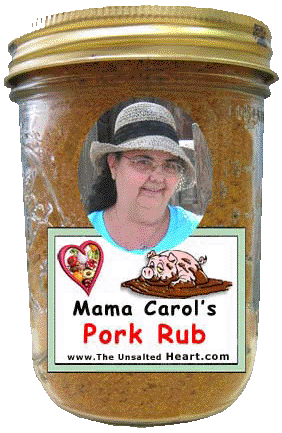 Papa's Cooking Tip

Cooking time should be adjusted to your daily schedule.Allow either 4 hours on high or 8 hours on low to cook. You can also cook our pork stew in a dutch oven for 2 hours on medium low heat.

Slow Cook'n Pork Stew

Recipe by

Tony LeDonne

Pork Shoulder

Russet Potatoes

Carrots

Celery

Green Onions

Onion

Garlic

Serrano Pepper

Lemon Juice

Orange Peel / Zest

Vegetable Broth (low sodium)

Fresh Ginger

Garlic Powder

No-Salt Seasoning (Kirkland)

Dried Thyme

Ground Black Pepper

Arrowroot Powder

Mama Carol's Pork Rub