Potatoes can be baked, steamed, mashed, stuffed and of course added to a tremendous amount of other dishes. They are extremely versatile. My version is crispy on the outside and stuffed with broccoli on the inside. Making them taste really good by using Papa's special recipe for Cheddar Cheese Sauce. I developed this tasty sauce to have as little sodium as possible and yet have tremendous flavor and depth. The average cheese sauce starts out at over 250 mg's of sodium per ounce. Papa's Cheddar Sauce is 96 mg's which allows you to have that little bit of extra when you start dressing up your Baked Potato & Broccoli…

Baked Potato

with Broccoli & Cheese Sauce  -  Serving's: 4

Per Serving: - Calories 253; Sodium 397mg;

Fat 12g; Protein 16 g; Carbohydrate 21 g;

Cholesterol 35mg; Dietary fiber 3 mg.

Enjoy,


From Our Unsalted Heart To Yours...
Preparing The Vegetables

It is import to prepare all of your ingredients before you start to cook. 

Do all of your chopping, grating and pre-measuring,

and you will have a great meal that is easy to make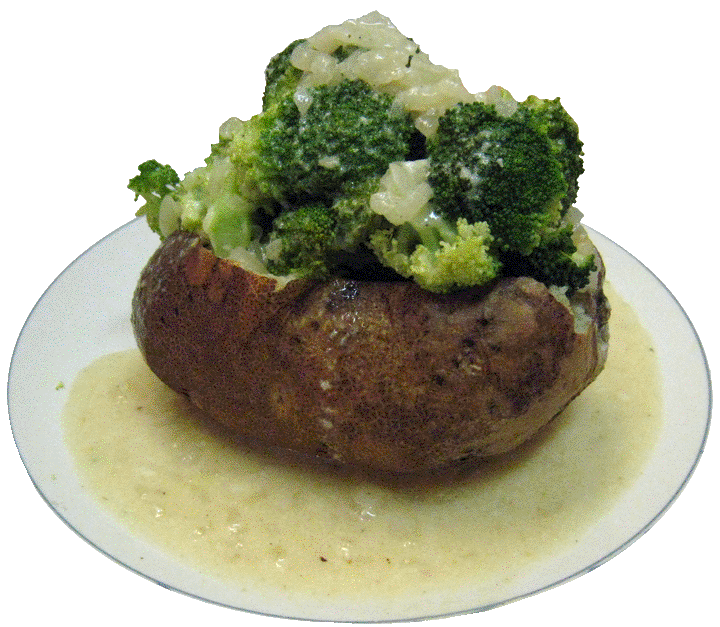 Note: Arrowroot - You can substitute cornstarch to thicken your sauce, but you will need to simmer it for 3 to 4 minutes longer to cook through.

Note: You can lower the sodium even more in my cheese sauce by using low sodium cheddar cheese. Heluva Good Farms heluvagood.com or 800-455-0269)

232 mg of sodium per serving

Healthy Food with Great Taste

Recipes Designed To Help Lower Your Sodium For Life

A Heart Healthy Life Style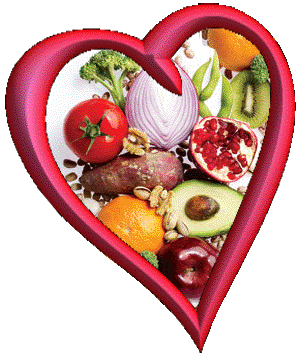 Baked Potato

with Broccoli & Cheese Sauce

Recipe by 

Tony LeDonne

Baking Potatoes


Pre-heat oven to 350 degrees f
Wash potatoes with cool water and a brush. Pat dry with paper towel. Using a fork – pierce potatoes on all four sides. (pierce multiple times per side.) Squirt olive oil spray onto potato and rub the potato all over with both of your hands to coat the entire potato with the oil. Place potatoes onto the oven rack and bake for 1 & ½  hours till potato skin is crisp and insides are fork tender. (A fork will go  into the potato very easy)

Cheese Sauce

Place a sauce pot onto the stove and squirt with olive oil spray. Add 1/8 tsp red pepper flakes and heat pot to a medium heat.

Add onions and cook for 5 minutes till translucent. Add garlic, 1/2 of the the No salt seasoning and cook for 2 minutes till soft. Add Chicken Broth and bring to a boil. When the broth is boiling reduce the heat to medium low then add Almond milk, Garlic powder & arrowroot. Stir to combine and simmer for 3 minutes. Add Cheddar Cheese ,blend until smooth. Add Parmigiano Reggiano and blend until smooth. Add ¼ tsp hot sauce and ¼ tsp ground black pepper. Let cheese sauce simmer on very low while broccoli is being steamed.

Broccoli


Place a pot on to your stove. Fill with 2 cups of water and bring to a simmer. Place a steamer with broccoli into pot. Season with remaining no salt seasoning. Cover with a lid. Steam broccoli for 6 minutes.
(There are many ways to steam vegetables. Using a microwave steamer of electric steamer are other good ways to steam your broccoli.)

It's Serving Time


Place a baked potato on a plate. Slice open, using a knife. Using a paper towel, push on each end of the potato to open up the center (it will be hot). Place steamed broccoli into the potato. Using a large spoon or ladle, pour cheese sauce over the top of the potato to cover broccoli and potato.
Russet Potatoes (about 4 ounces each)

Olive Oil Spray

Grapeseed Oil

Red Pepper Flakes

Onion - minced

Garlic - minced

No Salt Seasoning (Kirkland)

Chicken Broth – low sodium

Almond Milk

Garlic Powder

Arrowroot

Cheddar Cheese

Parmigiano Reggiano Cheese

Hot Pepper Sauce - (optional)

Ground Black Pepper

Broccoli - cut into bite size pieces

4

- medium
4

- squirts
2

- tsp
⅛

- tsp
½

- medium
1

- clove
½

- tsp
1

- cup
1

- cup
⅛

- tsp
1

- Tbsp
1

- cup
1

- ounce (¼ cup)
¼

- tsp
¼

- tsp
2

- cups