A simple dish that brings a tremendous amount of flavor. Shrimp spiced up with Mama's Seafood Rub. Broccoli that has been blanched for tenderness. Kale that adds a little bit of bitterness and a whole lot of nutrition. Add a few raisins and a carrot for sweetness. Last but not least Quinoa that's been cook in shrimp stock. This entire meal takes only 30 minutes from beginning to dinner table and will please your pallet and satisfy your heart with great sodium free flavors. This type of dish in a restaurant could start at over 700 mg of sodium and climb from there. Do it your self and you will be pleased with just a few natural sprinkles of sodium at 230mg included by mother nature. Its a delight and a pallet pleaser...

Shrimp, Broccoli, Kale & Quinoa   Serving's:  4

Per Serving: - Calories 400; Sodium 230mg; Fat 12 g; Protein 32 g; Carbohydrate 52 g; Cholesterol 173 mg; Dietary fiber 7 mg.

cup

Tbsp

cup

stalk

large

ounces

ounces

large

each

tsp

cup

lb

tsp

Note: see Ingredients for good sources of hard to find ingredients.

Mama Carol's Seafood Rub       Mix together and rub into Seafood.


1/4     tsp   ground cloves, ground ginger

1/2     tsp   allspice, cayenne pepper, celery seeds, chili powder, cinnamon,


         marjoram, parsley, paprika, thyme

3/4     tsp    garlic powder, onion powder

1        tsp    cumin

1 1/2  tsp    ground bay leaves, black pepper, dry mustard
Place all ingredients in a spice grinder and pulse for 1 minute

making sure all spices are well blended

Enjoy,


From Our Unsalted Heart To Yours...
Quinoa

Coconut Oil

Red Onion - sliced

Celery - sliced

Garlic Cloves - sliced thin

Broccoli - biter size florets

Kale - roughly chopped

Carrot - ribbons

Lemon - juiced

Lemon Pepper (no salt added)

Raisins

Shrimp

Mama's Seafood Rub





Broccoli and Kale


Bring 6 cups of water to a simmer, add a pinch of salt, and keep just under a boil.  Blanch the broccoli for 2-3 minutes or until fork tender, remove then place in a strainer and run cold water until cool, set aside.  Repeat the same step for  the kale.
Lets Get Cook'n


In a large cast iron or stainless steal saute pan, heat the oil, over medium-high heat.  Lightly saute the celery and garlic for 1-2 minutes.  Add the shrimp and gently toss.  Continue to cook, while tossing gently until you notice the shrimp are about 1/2 way cooked thru, 2 to 3 minutes. Toss in the broccoli and kale, add in the lemon juice and spices, and a splash of water.  Cover the pan and allow the ingredients to steam for another 3-5 minutes. Remove the pan from the heat and mix in the raisins. Adjust the seasoning with lemon pepper and Mama's Seafood Rub and let the mixture sit for 3 minutes covered.
Serve over Quinoa and Enjoy...

Cleaning Shrimp


Rinse shrimp under cold water. Peel shells from shrimp and save. Devein shrimp and place in a bowl. Add Mama Carol's Seafood Rub
(recipe below)
& optional 1/8 tsp red pepper flakes. Squirt with non stick olive oil spray and mix together.  Cover shrimp bowl and let seasonings blend in for 15 minutes.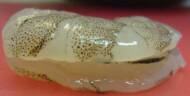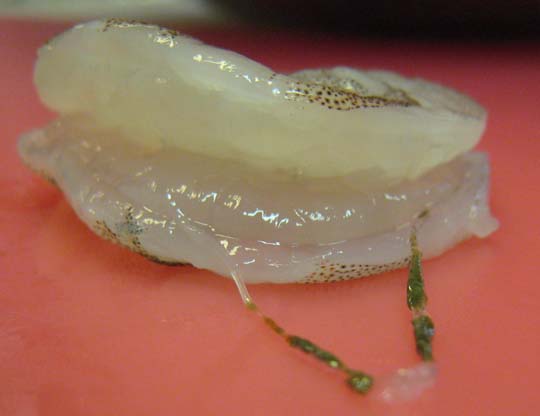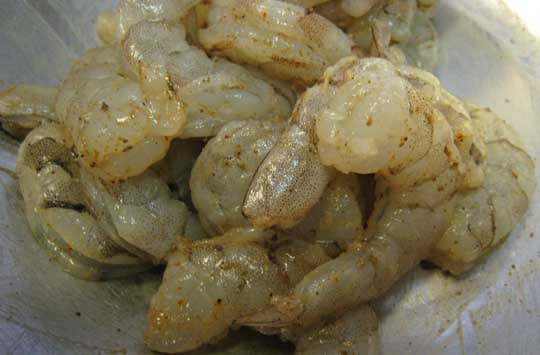 Whole Shrimp


    Cut down the middle


       Remove Vein


    Seasoned Shrimp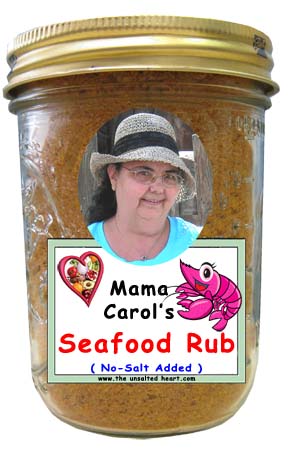 Shrimp Stock


Place a pot with 4 cups of water on the stove. Put shrimp shells into pot and bring to a boil. Boil for 2 minutes then lower to a simmer. Simmer on low for 15 minutes and you have two cups of shrimp water. Using a strainer, pour the water into a separate bowl and strain out the shrimp shells.
Quinoa


Rinse the Quinoa under cool water for 2 to 3 minutes. Just until the water runs clear. It's important to rinse quinoa to wash out the bitterness. Place the same pot used to boil the shrimp shells on the stove. Add one cup of Quinoa and 1 1/2 cups of the shrimp water. Retain the 1/2 cup of water for later use. Bring the water to a boil. Place a lid on the pot and lower to a simmer. Cook for 12 to 15 minutes until the water has been absorbed. Turn off the burner and leave the lid on the pot for 5 minutes.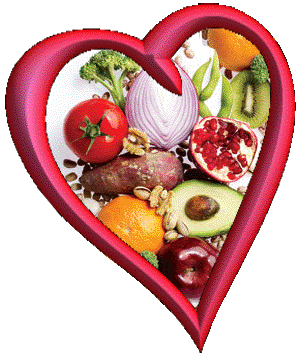 Healthy Recipes With Great Taste

Designed To Help Lower Your Sodium For Life

A Heart Healthy Life Style

Shrimp and Broccoli

with Kale and Quinoa

Recipe by

Tony LeDonne