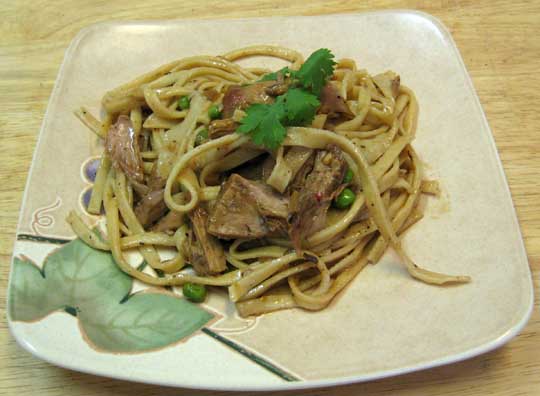 Like a turkey pot pie blending flavors with a creamy sauce mixed with noodles. Roasting the turkey gives it a rich flavor that extents itself throughout this dish. The sauce is a well balanced creamy sauce with a hint of cheese and a dash of wine.

Low in sodium and Low in Cholesterol give this flavor profile a comfort all it's own. The average turkey dish with pasta starts out at over 700 mg's of sodium and climbs from there depending on ingredients. Our delight is 283 mg's of sodium and of course, a satisfying tasty pasta dinner.

Roasted Turkey & Peas with Noodles  -  Serving's: 6

Per Serving: - Calories 397; Sodium 283mg;

Fat 7g; Protein 28 g; Carbohydrate 51 g;

Cholesterol 41 mg; Dietary fiber 2 mg.

Enjoy,


From Our Unsalted Heart To Yours...
Prepare the vegetables. Chop: shallots, garlic, celery

Pre-heat oven to 350 degrees f. Rinse Turkey Leg & Thigh with cool water making sure there are no little pin feathers (or quills) at the base of the drumstick . Pat dry with paper towel. Sprinkle on Mama Carol's Poultry Rub. (Recipe below)

Slice 2 slits into turkey half way down thickness. Insert 1 celery stick into each opening. Squirt olive oil spray onto both sides

Place into oven and roast for 1 & ½  hours till tender

When the turkey has roasted 1 ½ hrs or 165 degrees (internal temperature), remove from oven and let it cool for 15 minutes allowing  the juices to stay in the bird. Pull the turkey off the bone by using two forks shredding the meat to bit size pieces.

Set aside till needed to complete dish.

Place a large skillet on the stove. Heat pan to a medium heat, squirt with olive oil spray. Add shallot, garlic, red pepper flakes and cook for 3 minutes. Add chopped celery, no-salt seasoning and cook for 3 minutes more then add Marsala Wine continue to cook for 3 minutes.

Add chicken broth and simmer for 5 to 7 minutes to concentrate. Add almond milk and simmer for 3 minutes. Add arrowroot mix through to combine. Add grated cheese mix to combine. Add roasted turkey to sauce, mix to combine, then simmer for 3 minutes.

Add peas, mix into sauce and simmer on low until pasta is ready to be added.

Place a pot with 6 quarts of water on the stove and bring water to a boil. Add noodles to the water. Stir the pasta in the water after a minute so that it doesn't stick. Cook noodles for 9 to 10 minutes until al-dente (tender but firm) - Not Mushy.

Drain your noodles into a colander / strainer. Place noodles back into pot on the stove, with heat very low for 1 minute or until all of the water has evaporated.  Add cooked noodles to your sauce. Mix noodles and turkey to combine.

Place into serving dish and enjoy...

Note: Cooking times for Pasta are on the package from the manufacture. It will give you the correct time of the pasta as each brand name is different.

Note: You can substitute cornstarch in place of arrowroot to thicken your stock but you will need to simmer it for 3 to 4 minutes to cook through.

Mama Carol's Poultry Rub

¼ cup brown sugar  -   ½ Tbsp dry mustard

1/8 tsp cayenne pepper   -  1/16  tsp sea salt

½ tsp – paprika, onion powder, garlic powder

¼ tsp – ground black pepper,

sage, poultry seasoning

Mix together in a bowl and

sprinkle  it on your poultry,

and save the extra for next time...

Healthy Food with Great Taste

Recipes Designed To Help Lower Your Sodium For Life

A Heart Healthy Life Style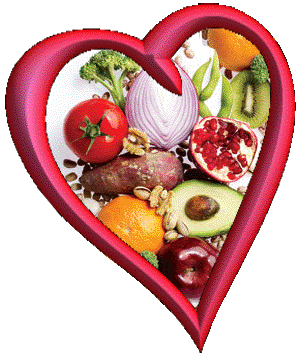 Roasted Turkey & Peas with Noodles

Recipe by 

Tony & Carol LeDonne

It is import to prepare all of your ingredients before you start to cook. 

Do all of your chopping, grating and pre-measuring, and you will have a great meal that is easy to make

The ingredients listed for this recipe have been chosen to help

lower the sodium content of your final dish.

This will help you with a heart healthy life style.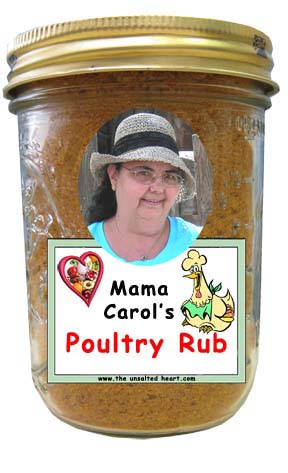 1

- pound
2

- tsp
½

- pound
2

- quarts
1

- medium
1

- clove
2

- ribs
½

- cup
1

- ounce
¼

- tsp
2

- tsp
¼

- cup
4

- squirts
1

- cup
1

- cup
1

- Tbsp
1

- Tbsp
Turkey Leg & Thigh (or Breast)

Mama Carol's Poultry Rub

Fettuccini Noodles

Water



Shallot - chopped


Garlic - minced

Celery (1 chopped & 1 cut into 3)

Peas

Parmigiano Reggiano Cheese

Red Pepper Flakes

No Salt Seasoning (Kirkland)

Marsala Wine

Olive Oil Spray

Chicken Broth – low sodium

Almond Milk

Arrowroot

Parsley – for garnish